Ministerio migrante
El Ministerio Católico Migrante está enraizado en la enseñanza de la Iglesia de que todos somos hermanos y hermanas. Busca formar a los trabajadores migrantes como personas de fe. También fomenta el intercambio mutuo de dones, tanto materiales como espirituales, entre todos los trabajadores migrantes y las otras comunidades de fe de la Diócesis de Rochester.
A través de los esfuerzos de nuestro Ministerio de Migrantes, acogemos el creciente número de migrantes, nos acercamos a ellos activamente para identificar sus necesidades, brindamos apoyo para la formación de su fe, promovemos la comunidad, la solidaridad y la justicia, y ofrecemos apoyo en situaciones de crisis.
Migrant Ministry
Catholic Migrant Ministry is rooted in the church's teaching that we all are sisters and brothers. It seeks to build up migrant workers as people of faith. It also fosters a mutual sharing of gifts, both material and spiritual, between all migrant workers and the other faith communities of the Diocese of Rochester.
Through our Migrant Ministry efforts, we embrace the growing number of migrants, actively reach out to identify their needs, provide support for their faith formation, promote community, solidarity and justice, and offer support in crisis situations.
Datos interesantes
Veinte mil trabajadores migrantes trabajan en nuestros campos, lecherías, fábricas, invernaderos y restaurantes.
Los trabajadores migrantes han estado llegando a nuestra diócesis desde México, Centro y Sudamérica en números cada vez mayores.
La mayoría de los trabajadores migrantes son católicos.
La diócesis ha iniciado centros de misión en Marion, Geneva, Brockport y Leicester para apoyar a los trabajadores migrantes.
Ministros Migrantes están sirviendo a tiempo completo y parcial en los campamentos en nuestros 12 condados.
Quick Facts
Twenty thousand migrant workers labor in our fields, dairy farms, factories, greenhouses, and restaurants.
Migrant workers have been coming in to our diocese from Mexico, Central and South America in increasing numbers.
The majority of migrant workers are Catholic.
The diocese has initiated mission sites in Marion, Geneva, Brockport and Leicester to support migrant workers.
Full and part-time ministers are serving the camps throughout our 12 counties.
Texedly App

Mantengámonos en contacto con nuestros celulares!
Como Iglesia, queremos ayudarte a mantenerte cerca de Dios y informado sobre lo que está  sucediendo en nuestra comunidad.
Envía un mensaje de texto con la palabra Tepeyac al teléfono 585-252-5367 para recibir mensajes de texto y actualizaciones en su celular.
Let's Keep in Touch with our Cell Phones!
As a Church, we want to help you stay close to God and to keep you informed on what is happening in our community.
Send a text message with the word Tepeyac to receive text messages and updates on your cell phone.
27 de septiembre |  September 27
 La Jornada Mundial del Migrante y del Refugiado|  World Day of Migrants and Refugees
COMO JESUCRISTO, OBLIGADOS A HUIR
La Iglesia celebra la Jornada Mundial del Migrante y del Refugiado desde 1914. Es siempre una ocasión para expresar nuestra preocupación por la diferentes categorías de personas vulnerables en movimiento; para rezar por ellos mientras enfrentan muchos desafíos; y para sensibilizar sobre las oportunidades que ofrecen las migraciones.
Cada año, la JMMR se celebra el último domingo de septiembre; en 2020, se celebrará el 27 de septiembre. El tema elegido este año por el Santo Padre es "Como Jesucristo, obligados a huir", y este año se centrará en el cuidado pastoral de los desplazados internos.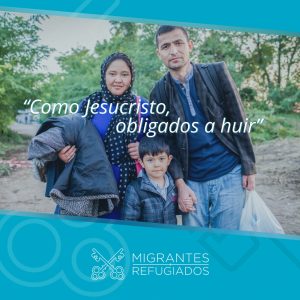 FORCED LIKE JESUS CHRIST TO FLEE
The Church has been celebrating the World Day of Migrants and Refugees (WDMR) since 1914. It is always an occasion to express concern for different vulnerable people on the move; to pray for them as they face many challenges; and to increase awareness about the opportunities that migration offers.
Every year the WDMR is the last Sunday of September; in 2020 it will be celebrated on 27 September. As the title for his annual message, the Holy Father has chosen "Forced like Jesus Christ to flee" to focus on the pastoral care of internally displaced people (IDPs).